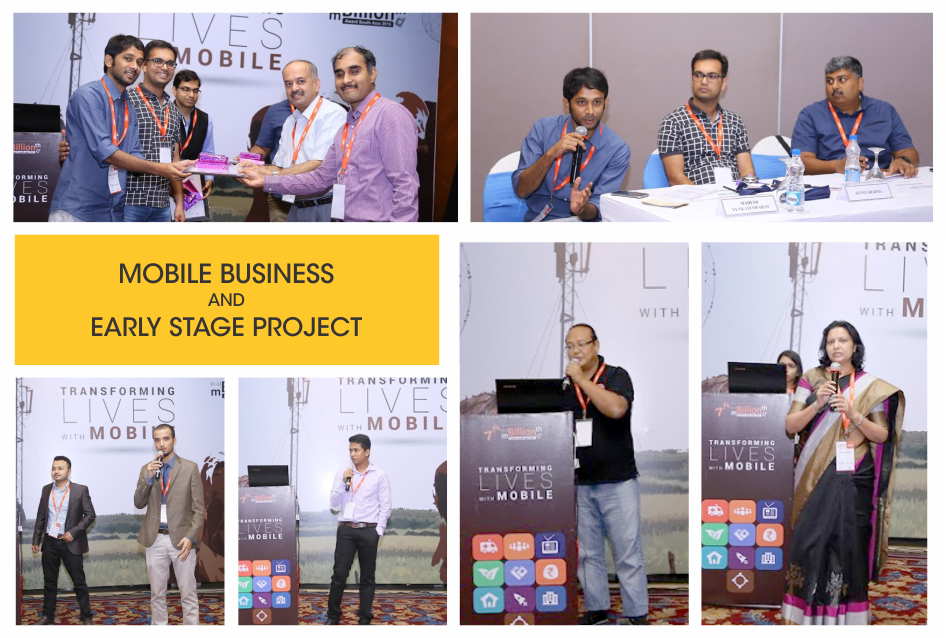 SESSION NAME: MOBILE FOR BUSINESS & EARLY STAGE PROJECTS
Moderator: Mahesh Venkateswaran, Principal – Industry Partnerships & Step Program, National Skill Development Corporation
Jury Expert: Sunny Sharma, Founder, Foetron
Panelist: Anurag Gour, Director, Product Marketing – Microsoft India
Moderated by Mahesh Venkateswaran, Principal-Industry Partnerships & STEPP Programme, National Skill Development Corporation, the session 'Mobile for Business and Early Stage Projects' discussed the use of mobile to empower small merchants, businesses, retail chains and home-based entrepreneurs, among others.
The session was part of a day-long schedule of the mBillionth Awards 2016, organised by Digital Empowerment Foundation (DEF) at Eros Hotel in New Delhi on July 23, 2016.
In the presence of Jury Expert Sunny Sharma, Founder of Foetron, and Panelist Anurag Gour, Director of Product Marketing at Microsoft India, mBillionth Awards 2016 Finalists from categories of Business and Early Stage Projects introduced their initiatives to the audience.
Vishal Lal, Co-Founder of UltraCash, said the app has already been downloaded by 50,000 individuals from Google Play. The payment transaction app is, at the moment, only being used in select parts of Bengaluru but the next phase would involve its testing in rural areas. At the time of a payment, the user needs to provide a six-digit PIN to access the application, choose the payment mode (bank account details or card details) and request for a One-Time Password. On receiving the OTP, user has to ensure that the phone is within a three-inch distance of the merchant's phone and click 'Initiate Payment'. The app allows transactions even when the user is offline.
App Bajar is an Android-based platform for the citizens of Bangladesh to see which app suits their needs best or get tailored apps for their business or purpose. App Bajar has 9,000 downloads and 42,000 social media followers. There are two million smartphone users in Bangladesh. The app provides them an easy access to over 1,200 apps, including 200 apps from India. "App developers can also advertise their app on the platform," said Mohd Shafiul Alam Biplob, Founder of App Bajar.
Founder of Mahindra Comviva, Mohit Bhargava, introduced the audience to Bangladesh's Roshan M-Paisa app, a platform for innovative (feature or smartphone) mobile money transfer and payment. M-Paisa uses a six-point approach of simple, speed, efficient, secure, support and service. A popular app in the country, especially among women business agents, the Afghan national polices has used this service to make 400 payments, including salary disbursement and bill payments, in remote locations of the country. So far, 1.3 million customers have used this service.
K Sivakumar, Executive Director of Business Process Excellence Centre, discussed the success of Bharat Petroleum Corporation Limited's purchase-to-pay app, which has already been downloaded 14,000 times in India.
Abhijit Shrestha, Managing director at Source Code Pvt Ltd, introduced Nepse, a Nepal-based app that brings real-time stock exchange data right into the pals of smartphone users. "Feedback is their best resource for learning and updating of the technology. We generate money by creating portfolios of the people and all the services in the app are for free," he said, adding that the app is used by 50,000 individuals in Nepal. Key features of the app include daily updates from the stock market, live trading data and a list of top gainers/losers/turnovers, among other things.
Taxpert, another Nepal-based app, was presented by Tulasi Dahal, Managing Director of Volcussoft Pvt Ltd. The app has been created to resolve the queries of a layman on tax by connecting him/her to tax experts. Other ey features of the app include tax calculator, TDS calculator and a notice board for updates. The app, which has been downloaded 10,000 times, has 6,000 active users according to Google Analytics.
Mohd Mubir Mahmud Chowdhary, CEO of Humac Lab Limited, the brains behind Selliscope, informed the audience that the app provides a business solution for field force assessment and cash flow. Winner at the National Mobile Application Award in 2015, Selliscope allows users to create sales team, create and mark pins on map for shops, create sales route, assign route to sales team members, monitor sales team route, order collection from POS/shop, enable POS audit, broadcast message to members and customise reports.
Karma Bhutia, Founder and CEO of iShippo introduced the e-Commerce app and said, "iShippo is a marketplace, craft and maker community where people from around the world come together to buy, sell and interact. iShippo offers a community creative destination that supports local handicraft makers, artisans, weavers and indie businesses."
Dr. Roshan Hewapathirana from Healthcare Informatics Analyst spoke about District Nutrition Monitoring System, a Sri-Lanka based initiative to facilitate nutrition monitoring and nutrition risk assessment among the children. The app targets children under the age of five, and involves a mobile solution for height-weight reporting and household assessment for comprehensive nutrition profile for growth monitoring.
Samira Gayan Jayasingha explained about an initiative called 'Right2Sight' launched in Sri Lanka. Right2Sight is an Android mobile application that empowers visually impaired people by providing easy access to smartphones to perform their day to day activities such as making calls, managing contacts, managing messages, using utilities such as clock, battery power, ringing options and profile, etc. The access to these is eased through voice-based messages and braille input. The application is available for Sinhalese and Tamil users. It is estimated that there are 2,00,000 people in Sri Lanka who are believed to be blind and another 4,00,000 have low vision.
App Developer Rakesh Gogoi explained that Sahityarthi is aimed at sharing and preserving the works of Assamese literature and culture personality Lakshminath Bezbaroa through its website and Android-based application. Sahityarathi has been created with the aim to index and digitise all his creations on one platform within the next few years.
Dr. Neeru Bhoshan discussed the role of Pusa Krishi in promoting agribusiness ventures for everyone from a corporate to an individual farmer. The app has already been downloaded by 10,000 individuals across the country. Meanwhile, Rabin Shilpakar elaborated on how Polytricks converts stories into life theories through the medium of games and notifications.
The mBilliont Awards 2016 was organised by DEF with Principal Partner Google; Associate Partner Qualcomm; Strategic Partner Mint; Institutional Partner World Summit Award; Event Partner Inomy; Outreach Partner MP Post; and Country Partners dnet, Bytes for All, CAN and ICTA.