mBillionth Awards Grand Jury 2017
Friday June 16, 2017
Venue: UNESCO, San Martin Marg, Chanakyapuri, New Delhi

The Grand Jury for the 8th mBillionth Awards South Asia was successfully held on June 16, 2017. This year, we received a total of 294 entries across 10 categories.
There was an elaborate internal scrutiny process this year to filter only the best nominations for the Virtual Jury to take a look at. The internal scrutiny process managed to filter down the entries to 157 valid nominations for evaluation by the Virtual Jury, which then further filtered the nominations down to 84 Best nominations for the mBillionth Grand Jury.
The mBillionth Grand Jury brought together 21 veterans and experts from various sectors from different countries. Together, they deliberated, debated, voted and shortlisted Winners and Special Mentions across the 10 categories. The Winners were handpicked, during a grilling day-long Jury process, based on their exceptional work in their respective fields and their impact on the masses at large.
The list of Winners, Special Mentions and Chairman`s Distinction will be revealed on stage at the 8th mBillionth Awards Gala in New Delhi, India, on August 4, 2017. Below is the list of Jurors for mBillionth 2017.
Jury Moderator
Osama Manzar,
Founder & Director, Digital Empowerment Foundation
Osama Manzar is a social entrepreneur, author, speaker, editor, columnist and new media specialist who is spearheading the mission to overcome the information barrier between India's rural sector and the so-called developed society through Digital Empowerment Foundation (DEF), the not-for-profit organisation he founded to accomplish the mission. He is a Member of the Working Group at Internet Governance Forum of the Ministry of Communication & IT; and was a Member of Task Force on Growth of IT, ITES & Electronics HW Manufacturing Industry under the Ministry of Communication & IT.
Samiran Gupta
India Head, ICANN
Samiran is the Head of India for ICANN and a veteran in business strategy and public affairs management.
Prior to joining ICANN, Samiran was a Senior Director with APCO Worldwide responsible for counseling clients in business and public affairs strategy. Earlier, Samiran was a founder and managing director of a leading management consulting and business advisory practice known for working on distinctive projects for a range of corporations from Fortune 500 clients to top Indian businesses and mid-sized entities. Samiran has worked extensively in sectors including telecom, entertainment, payment systems, e-commerce, social media, and energy and renewables.
Samiran has a Masters in Business Administration from St Joseph's University in Philadelphia, United States of America, and a Bachelor of Commerce from University of Calcutta, India.
Rana Safvi
Writer, Scholar and Translator
Rana Safvi is a renowned writer, scholar and translator. She is the author of Tales from the Quran and Hadith and Where Stones Speak: Historical Trails in Mehrauli, the First City of Delhi. She has also translated both the editions of Asar us Sanadeed, the seminal work on Delhi's monuments, written by Sir Syed Ahmed. She runs the popular blog 'Hazrat e Dilli' on her site ranasafvi.com and is passionate about documenting India's syncretic culture through her writings.
Yeshanth Gunewardena
Founder and CEO Hire1 Technologies, Sri Lanka
He is the founder and CEO of Sri Lankan startup Hire 1 Technologies. Hire1 is a pioneer in logistics, operating an Uber-like multi-faceted logistics service for businesses and now making strides into automated crowd-sourced trucking.
In the past, Yesh worked as the S-E Asia Director for Shared Value Partnerships at Mercy Corps Indonesia. Prior to that, he was a strategy consultant for D.Light Design India and BRAC Sri Lanka. He also worked as a Finance & Strategy Manager for American Express in New York. Yesh holds a bachelor in Computer Science and a master in Finance from Clark University and an MBA at Harvard Business School.
Natasha Badhwar
Columnist & Filmmaker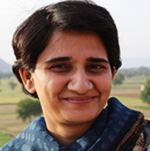 Natasha Badhwar is a writer, filmmaker and media trainer. She is also co-owner of the online fashion brand, Ochre Sky. Natasha writes a popular column, "My Daughters' Mum" for Mint Lounge, where she documents contemporary family and relationships in today's socio-political landscape in a candid and personal style. An independent media professional, Ms. Badhwar is a content and communications consultant with Oxfam India, Water Aid, Edelman and Sheroes. She was also India's first female news videographer in 1995 and has worked with NDTV for 13 years where she was Vice President, Training and Development in 2007. She takes Documentary film-making and Videojournalism workshops at Delhi University, Centre for Science and Environment and the Express Institute of Media Studies.
Manoj Ramchandra Dawane
VP & Head of Technology, Government & Industry Relations, Sustainability & Corporate Responsibility, Ericsson India
Manoj looks after ICT technology evolution and driving standardization. He is the primary interface of the organization with overall business ecosystem, including government, industry bodies and academia. Further, he also is accountable for Ericsson's sustainability and societal endeavors, heading deployment of Technology for Good projects in the country.
Prior to this role, Manoj was Head of Engagement Practices within Region India whereby he was responsible for solutioning of all customer requirements for Region India, Nepal & Bhutan. Solution areas involved were: Mobile Broadband (3G/4G), Fixed Broadband and IP Networking, Operating Support Systems (OSS) & Business Support Systems (BSS), Mobile Commerce, Managed Services (Network and IT), TV & Media Applications.
Manoj joined Ericsson in May 2010 as Head of Strategy, Marketing and Innovation.
Before joining Ericsson, Manoj was Chief Executive Officer and Board Member of Mauj Mobile – wireless division of People Group. As CEO, Manoj led the Mauj Mobile team on their strategic growth path, both in domestic and international markets, addressing telecom operators, media companies, agencies and brands as primary customers.
Manoj has worked at senior management positions with some of the country's leading telecom companies. He was the Chief Operating Officer of Airtel for Western UP & Uttaranchal and Chief marketing Officer for Airtel Mumbai prior to that. He was also appointed as Business Head Innovation / New Product Development and VAS Management, for all Bharti operations.
In his career, Manoj was instrumental in pioneering the prepaid cellular revolution in India, having been involved in the first retail prepaid business called ACE for Hutchison Max Telecom (now Vodafone) in 1997. He also introduced 'Info Services' on the mobile with marketing and entertainment based services during this time frame, paving the way for 'VAS' as an important facet of operator offering to the consumer.
Manoj is recognized expert on the subjects of Technology, MVAS and Marketing in Telecom and has been a member of various industry body committees in India.
Gayatri Subramaniam
Chief Programme Executive Head- Implementation Agency (IA) Hub & Corporat Hub Convener, National Foundation for Corporate Social Responsibility (NFCSR)

With an academic and industrial experience of more than 30 years, Gayatri has been associated with Indian Institute of Corporate Affairs since its inception. Her main area of work is to contribute towards policy advisory service and undertake capacity building and knowledge dissemination initiatives in the Corporate Social Responsibility. She has been a part of the evolvement of the new legislation on CSR in India representing IICA at various national stakeholders' consultations. She has also represented IICA at various international forums. She is the Convener for NFCSR – a unique platform created for Government, Corporates and NGOs for taking up development and sustainable initiatives at a national level. From 2009 to 2011 she was also involved in the development of National Voluntary Guidelines for Social, Economic and Environmental Responsibilities of business (NVGs) and Business Responsibility Reporting Framework (BRR) by conducting stakeholder consultations pan India basis to get the feedback and comments from the stakeholders to be incorporated in the Guidelines. At present, she is heading the Implementation Agencies Hub and Corporate Hub of IICA.
Suzanne Singh
Chairperson, Pratham Books
Suzanne Singh is the Chairperson of Pratham Books, a not-for-profit organization that publishes high quality, low cost multilingual books for children in India. Its mission is to see 'a book in every child's hand', and help promote reading acquisition among children. Over the last decade, Pratham Books has created a new model in publishing that has made millions of books available for children in several Indian languages. They are expanding their work exponentially by using technology as a key driver to enable greater equity and access to books.
Prior to Pratham Books, Suzanne worked in the corporate sector. She has been in the education field for over 13 years with Akshara Foundation and Pratham Books.
She also serves on the Boards of Akshara Foundation and United Way Bengaluru
Rajen Varada
Co-Founder & Director, Technology for the People (TFTP)
Rajen Varada has been an ICT practitioner since 1995 and continues to be actively engaged in designing and implementing proof of concept solutions for rural development using technology and, in particular, ICT. He has developed solutions for health and early childhood care: (Sisu Samrakshak UNICEF), Disaster: (SMS4help – Solution Exchange), District e-Governance: (Parishkaram & Samadhan – Govt of AP & West Bengal) and most recently 'Labnet' a migrant labour tracking and services portal. He is actively involved for the past nine years in study, evaluation, and mentoring ICT innovations which impact the social sector. Mr. Varada has been one of the thinkers behind movements like public sector software in India and actively supports community ownership of technology – from community radio, community TV to open source applications.
Smita Aggarwal
Director- Investments – Omidyar Network
Smita leads strategy and investments for Omidyar Network's Financial Services initiative in India. She engages closely with innovative fintech companies and also has a board role in a few.
Smita has over 25 years of experience in banking and finance. Before joining Omidyar Network, Smita served as senior program director at CAFRAL, a global think tank promoted by the Reserve Bank of India. Prior to her time at CAFRAL, Smita was business head, Gramshakti at Fullerton India Credit Company, a Temasek subsidiary, where she set up a business model to offer loans and other third party products to rural customers.
She began her career with ICICI Bank, where she held various leadership positions including head of rural and agricultural insurance business, head of strategy, head of e-channels, head of CRM, and head of international resources.
Smita volunteers with the Indian Cancer Society and spearheads one of the largest pan-India projects for providing financial grants for treatment of poor cancer patients. She was also instrumental in conceptualizing and launching the first debt mutual fund for supporting cancer cures.
A Chartered Accountant, Smita graduated from Sydenham College in Mumbai and attended executive programs at Harvard Business School and MIT Sloan School of Management.
Parag Kar
Vice President, Government Affairs
Qualcomm India and South Asia
Parag Kar is Vice President, Government Affairs of Qualcomm India and South Asia, and has been the company's key regulatory and policy interface for the Indian subcontinent and the region since January 2005.
His role includes forging lasting relationships with regulators, industry and the Department of Telecommunications (DoT), apart from helping establish Qualcomm's leadership position as a pioneer and innovator in mobile wireless technologies globally and in India by creating a sphere of influence among key government, industry, media and civil society champions.
Mr. Kar is a key member of Qualcomm India's leadership team, and works closely with all stakeholders to realize the company's vision to take the benefits of mobile broadband to a larger base of Indian consumers, in particular to a billion Indians and beyond with advanced mobile wireless technologies like 3G and LTE.
Mr. Kar has been working closely with the DoT, industry bodies and telecom operators to ensure that policies and regulation are aligned with international best practices and the benefits of global experiences can be realized in an Indian context.
Mr. Kar has over 20 years of experience in the telecommunications industry. Prior to his appointment at Qualcomm, he was responsible for business development of broadband convergence technologies (both wireless and wireline) at Lucent Technologies in India. Before that, he was with the Indian Railways and responsible for the successful completion of various telecom projects in the Railways.
He holds a Bachelors Degree in Electronics and Telecommunication Engineering from the Regional Engineering College Bhopal and a Masters Degree from the Indian Institute of Technology, Delhi. As an expert and thought leader in the industry, Mr. Kar is also quoted extensively by key media and has written extensively in several newspapers and magazines.
Anirban Mukerji
Senior Manager, Wireless Reach, Qualcomm
Anirban Mukerji is Senior Manager within Qualcomm's Government Affairs department. Based in New Delhi, he manages Qualcomm's Wireless Reach™ initiatives in India and South Asia. Qualcomm believes access to 3G and next-generation mobile technologies can improve people's lives. Qualcomm's Wireless Reach initiative is a strategic programme that brings wireless technology to underserved communities globally. An ICT4D professional, Mr. Mukerji has worked on numerous e-Governance projects like Urban Property Records Project for Karnataka and the e-District Project for the Government of India.
Basanta Shrestha
Director Strategic Cooperation-: International Centre for Integrated Mountain Development (ICIMOD)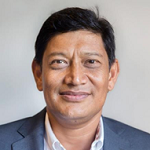 Mr Basanta Shrestha, Director of Strategic Cooperation at the International Centre for Integrated Mountain Development (ICIMOD) provides strategic leadership and partnership development to bring about transformative change.
Mr Shrestha has a Master's in Engineering in Computer Science from the Asian Institute of Technology, Bangkok, Thailand, and a Bachelor's in Electrical and Electronic Engineering from Madras University,India.
Mr Shrestha, an experienced manager and team builder, is well-known for his outstanding strategic leadership quality and his proven track-record of networking around the world. He is a founder member of the Mountain Environment and Natural Resources Information System (MENRIS) Programme at ICIMOD, widely known for its pioneering efforts in promoting the use of earth observation and geospatial technologies for sustainable mountain development. He has championed the successful partnerships with NASA and USAID to spearhead SERVIR-Himalaya Programme – a flagship initiative to bridge technology and innovation to mountain development challenges. Mr Shrestha has been granted a Presidential award and Special Achievement Award by Environmental System Research Institute, USA.
Bikram Shrestha
President- Internet Society Nepal,
Head, e-Banking & ISO – Sanima Bank Ltd.
Mr. Bikram Shrestha is the President of Internet Society Nepal, IT Chairperson of Nepal Jaycees, Treasury of ITSERT-NP, Chairperson- e-Banking Committee of CAN Federation. Professionally, he is working as Head of e-Banking & ISO at the Sanima Bank Ltd. Mr. Shrestha is a well known Banking professional having extensive experience in managing and leading major functions like ICT and Banking System as well as Card, m-Banking and i-Banking System in leading commercial Banks in Nepal.
Mr. Shrestha is actively working for growing the ICT capacity in the country and expanding the organization's network across the world and has already successfully conducted numerous seminars and conference in order to introduce the global hot cakes into the country where several esteemed speakers have attended. He has also attended the fellowship program in INET Sir Lanka and Global INET in Geneva, Switzerland. He was ICANN fellow at ICANN45 in Toronto, Canada, ICANN46 in Beijing China, ICANN48 in Buenos Aires and ICANN50 in London United Kingdom, ICANN56 Dublin, Ireland and ICANN 58 for Copenhagen.
Mr. Shrestha was one to establish an Internet Service Provider (ISP) a first of its kind in his locality Hetauda in 1997. Besides, he has interest in music has a result of which, he produced two musical albums sung and composed by himself.
Mr. Shrestha has more than 14+ years experience in Nepalese Banking sector. He started his career with Bank of Kathmandu Ltd. Apart, Mr. Shrestha was also as Head- Card Center at Bank of Kathmandu Ltd, Prior to this position. He had worked for Information Technology Department in the Bank of Kathmandu. He had significant roles to implement the state-of-the–art technologies.
Anirban Sarma
National Programme Officer (Communication and Information),UNESCO
Since 2011, Anirban Sarma has been a National Programme Officer (Communication and Information) at the UNESCO Cluster Office for Bangladesh, Bhutan, India, Maldives, Nepal and Sri Lanka. In his current role, he designs and manages UNESCO's initiatives on media development, ICTs and access to information across South Asia. He began his career as an editor in the book publishing industry and worked at Anthem Press and Random House before joining the Centre of Excellence at Weber Shandwick, a PR and public affairs consultancy. In 2007, he was awarded the prestigious Inlaks Scholarship from India to pursue an MSc in Media and Communications at the London School of Economics, from where he graduated with a Distinction the following year.
Shayantani Twisha
PR & Media Manager- Daraz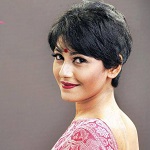 Shayantani Twisha started her career in 2011 as a crime reporter at Independent Television. Side by side she anchored news and hosted infotainment programs there. Later on she worked at an advertising agency as a copywriter. She joined one of DEF's country partners Dnet in 2014 as the Head of Communications. After that she worked at a Tech-farm named SSD-Tech as the Product Manager, Market Communications. Currently she is working at the biggest e-commerce platform of Bangladesh, Daraz Bangladesh Ltd. (daraz.com.bd) as the PR & Communications Manager. She also owns a publishing house for children's books named 'Rang Pencil'. She completed her B.Sc. in Physics from Pune University followed by a Masters in Development Studies from BRAC University.
Dushyant
Lawyer,Writer,Columnist ,Mumbai Mirror
Dushyant is a lawyer practicing in Delhi and a columnist with Mumbai Mirror. His writing has also been published in The Caravan, The Wire, The Sunday Guardian and others. Dushyant writes about the intersection of human rights, civil liberties, and the law. He is especially invested in the representation of women, minorities and the underprivileged in the contemporary mainstream narrative."
Sachindra Samararatne
Program Manager Information and Communication Technology Agency (ICTA), Sri Lanka
Sachindra Samararatne has been part of the industry development program of ICTA for the past 7+ years. He is currently the Program Manager of a very dynamic team which implements projects around overseas business development, tech startup acceleration, high end technology skill training etc. He has been engaged with analysts such as ATKEARNEY and GARTNER and is engaged in branding Sri Lanka as a technology hub. Sachindra has also been a judge at competitions such as eSwabhimani, Kotiyak Watina Adahasak, Startup Weekend and Global Student Entreprenur Awards.He has a Master's in Business Administration, Bachelors in Information Technology and a Bachelors in Business Administration. He is also a Microsoft Certified Professional.
Tinni Sawhney
CEO- Aga Khan Foundation
Tinni Sawhney has over 28 years of experience on sustainable livelihood development in rural India and has worked extensively on issues of agriculture and livestock development for smallholder farmers, particularly in the rainfed regions of India. She has also worked
extensively on strengthening gender perspectives in development, and building robust community institutions to lead development processes. She is currently the Chief Executive of the Aga Khan Foundation in India and has previously
worked with the UN Food and Agriculture Organisation's South Asia Pro Poor Livestock Policy Programme, the Danish International Development Assistance (DANIDA) and the World Wide Fund for Nature.
Madhura Dutta
Executive Director, All India Artisans and Craftworkers Welfare Association (AIACA)
Madhura Dutta, the Executive Director of All India Artisans and Craftworkers Welfare Association (AIACA), has over 15 years of experience in the social development sector with extensive experience in livelihood generation models across India. She has worked in UNESCO and has contributed towards development of Cultural Policy and Cultural Entrepreneurship focusing on creative industry models. Her vast experience on community development matched with her passion in handicrafts has brought her to AIACA, a national organization working in the crafts sector. She has a Master's degree in Sociology from University of Calcutta, a Master's degree in Sustainable Development from Staffordshire University, UK and a PhD from Tata Institute of Social Sciences, Mumbai. She is also a Commonwealth Scholar.
Meenakshi Batra
CEO, Charities Aid Foundation (CAF) India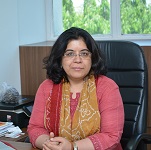 Meenakshi Batra is an accomplished and widely recognised professional with over 25 years of experience in the international development, Corporate Social Responsibility (CSR) and not-for-profit sector. Her skills include a wide range of development sector approaches, institutional donor programme management, organisational development and management along with budget and strategic planning. Meenakshi has served in various leadership roles with international development and humanitarian agencies in South and Southeast Asia. In addition, she has successfully led large country programmes in India, Afghanistan and Indonesia working with leading international development NGOs.
Currently, Meenakshi is the CEO of Charities Aid Foundation (CAF) India, which is part of a Global Alliance of CAF organisations. Operational in India for the past 18 years, CAF India focuses on promoting 'giving' in India. It has a robust system for end-to-end CSR management, including a well-recognised corporate advisory, NGO due diligence and programme implementation portfolio. CAF supports all causes and some of its key focus areas include education, health, water, environment, livelihood, women, children and disability.
Prior to CAF India, Meenakshi worked in Afghanistan for nearly 7 years, living and working out of Kabul and Herat, as Country Head of Save the Children, War Child UK and War Child Canada.
Dr. Amina Charania
Associate Professor, Education and ITE lead Tata Trusts
Dr. Amina Charania is Associate Professor at Centre for Education Innovation &Action Research, TISS, Mumbai and ITE Lead at Tata Trusts. She developed and scaled the program called Integrated approach to technology in Education initiative which currently runs in seven states, and recently developed the certificate course at TISS on ICT in Education for School Teachers. Currently she also leads the Teacher Professional Development unit of Connected Learning Initiative at the centre. She also developed the concept of Integrating Dinni and Dunyavi Talim (Religious and Secular) in madrasas in West Bengal.
Prior to associating with the ICT based innovations in India, she worked in Iowa State University Center for Technology in Learning and Teaching as on the evaluation team of the federal grant on Teacher Education Goes into Virtual Schooling (TEGIVS).
Amina also teaches the MAEE course at TISS on ICT and Education and Cognitive and Social development. He research interests are in the area of ICT enabled constructive approaches, project based learning and authentic learning. Has extensively trained rural and government schools teachers on pedagogy and ICT and Education.