ORIGINAL TITLE : Kan Khajura Tesan
ORGANIZATION : Hindustan Unilever Ltd. PHD India
COUNTRY : India
CONTACT : Kshitij.Karnad@phdmedia.comLANGUAGEHindi
WEBSITE : www.hul.co.in
DOWNLOAD THE APP : N/A
Using mobiles to advertise in media dark areas
Launched in October, 2013, Kan Khajura Tesan (KKT) is a unique marketing campaign for Hindustan Unilever Ltd. using mobile phones. The campaign is aimed at reaching consumers in media dark regions, that is, where the ratio of available entertainment options (TV, print, radio) are low compared to rest of the country. KKT was conceived to take advantage of the fact that while TV reaches only 23 million households, mostly urban, mobile phones reach double that – 54 million households of which nearly 50% are rural households.
KKT has brought about a communication revolution in these markets by creating a single number that provided always on demand free entertainment. HUL adverts were integrated with the content.
To access the entertainment content the consumer is required to give a "Missed call" (the call here gets disconnected automatically after the two initial rings) on 1800-30-000-123. He is then called back where some content, which includes among others an RJ speak, jokes, and Bollywood songs. Hence, giving the entertainment hungry audience exactly what they want.
So far, KanKhajuraTesan, has reached out to more than 33 million subscribers across India. In total, till date it has clocked 700 million minutes of engagement with consumers. HUL ads have been heard 380 million times in the last 15 months.
In 2014 KKT focused on intelligent analysis of platform data collated from users' past interactions to create enhanced user experience, dynamic content delivery and customized programming capsules.
KKT piloted the channel in Bihar and Jharkhand, but its wild popularity encouraged them to open the dial-in number to the entire country. Now anyone within India can call in and enjoy the content in Hindi language. The callers got access to free entertainment and HUL is able to break out of the vicious share of voice (SOV) battle.
ORIGINAL TITLE : FlipBeats
ORGANIZATION : hSenid Software International
COUNTRY : Sri Lanka
CONTACT : pradeepa@hsenid.in
LANGUAGE : English, Spanish, French, German, Portuguese and Russian
WEBSITE : www.hsenid.com
DOWNLOAD THE APP : https://play.google.com/store/apps/details?id=com.hsenid.flipbeats&hl=en
Music player lets users listen to free music online
Launched in December, 2013, FlipBeats is a highly competitive, good looking and user friendly music player app which invites its users to a customised, professional level music listening experience. The app has already received many positive reviews, mainly for its well designed user interface which cannot be beaten by any other music app. FlipBeats has a unique feature to search and listen to music free online via cloud based streaming services on the go. FlipBeats is a universal mobile application that runs on all Apple iOS (iPad, iPhone, iPod touch) and Android (Tablets & Phones) devices and is available on Google Play Store and Apple Store. So far there have been more than 150,000 downloads. The download is free and the company is generating revenue from in-app purchases (IAP).
The key features of the FlipBeats music player are:
Search & Listen to Music FREE online via cloud based streaming services
Powerful Social Media integration to share user's music experience online
Gesture powered Customizable Flip UI
Multi Band Graphic Equalizer with 14 Equalizer presets & Custom presets
Bass Boost, Surround Sound & Room Size Configurations
PRO EQ Engine to come up with user's own Advanced EQ settings
PRO Reverbs Engine to fine tune sound to user's exact needs
Audio Visualiser (VFX) and Colour Themes to customize the visual impact of the music
Download Lyrics Free
Download Album Arts
Shake Controls for a fun filled experience
ID3 Tag Editor to edit the metadata of songs
Easy Sort feature to let user quickly find the songs he or she wants
Sleep Timer
Sound Health Profile to protect user's ears from harmful volume levels
FlipBeats comes is English, Spanish, French, German, Portuguese and Russian
Material Design User Interface
No Ads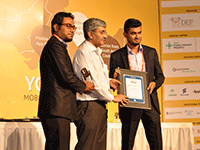 ORIGINAL TITLE : Bangla Boipoka
ORGANIZATION : MobioApp Ltd
COUNTRY : Bangladesh
CONTACT : Meer.faisal@mobioApp.com
LANGUAGE : Bangla and English
WEBSITE : www.banglabookhouse.com
DOWNLOAD THE APP : https://play.google.com/store/apps/details?id=com.mobioapp.paidpdf
Mobile app lets users buy, read Bengali e-books
Launched in July, 2013 Boipoka (in English this means Bookworm) is a mobile application for android and iOS platforms. It is the largest Bangla e-book market place in the world. Boipoka strictly maintains copyright of publishers and authors by its own developed DRM (Digital Rights Management) system. Books can be bought through In-app purchase, bkash (a mobile app for financial transactions) and activation code.
The key features of the mobile app are:
Large collection of e-books
Purchase of popular books available in the book store using Credit cards and bKash
Facilty to share favourite lines of any book in social media
Facility to rate the book you read
Feedback facility
Facility for text highlight, bookmark, annotation, page jump, night reading
Facility to search for Books
Facility to read other PDF files on your device
Lots of free books are also available
No Advertisements
Boipoka is promoting protection of intellectual property of authors and publishers for electronic version for the first time in the history of Bangla book publication by mobile application.
The app can be downloaded for free from Google Play Store or i-tunes App-store.