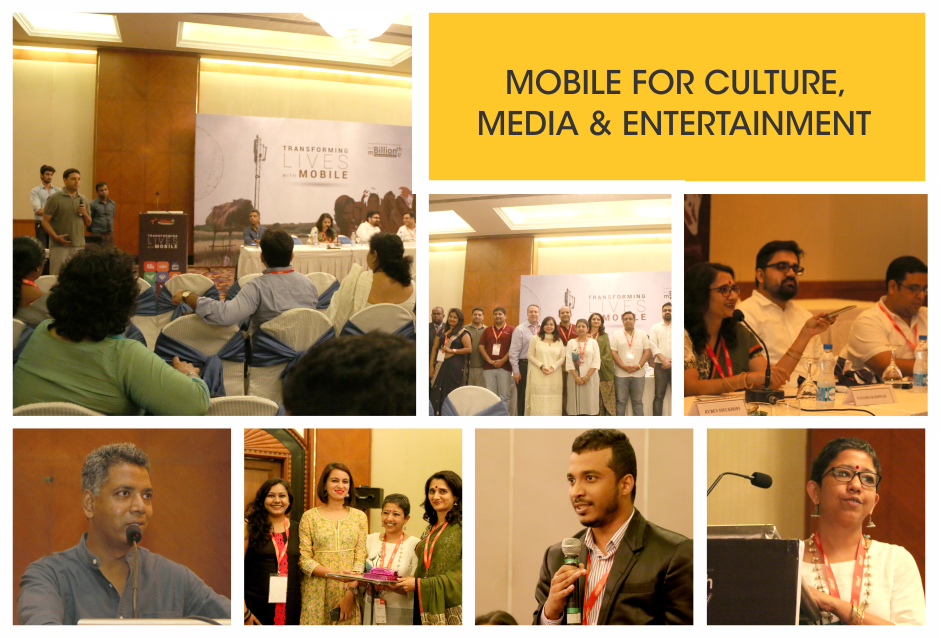 SESSION NAME: MOBILE FOR CULTURE, MEDIA & ENTERTAINMENT
Moderator: Natasha Badhwar, Columnist & Film-Maker
Jury Expert: Nasr Ul Hadi, ICFJ-Knight International, Journalism Fellow, India
Panelist: Nikhil Pahwa, Founder, Editor & Publisher, Medianama
On the occasion of mBillionth Awards 2016, a session on 'Mobile for Culture, Media and Entertainment' was hosted at Eros Hotel, New Delhi, on July 23, 2016. The session focussed on the use of mobiles to virtually tour museums, to explore information in different languages and formats, to create repository of art and culture, to read and sell e-books in regional languages, to encourage online publishing and to disseminate news.
Moderator by columnist & film-maker Natasha Badhwar, mBillionth Awards 2016 Finalists from the categories of Culture & Tourism and Media & Entertainment presented their ideas to the audience, Jury Expert & ICF J-Knight International Journalism Fellow Nasr Ul Hadi and Panelist Founder-Editor of Medianama Nikhil Pahwa.
Rukshani Aponsu, Chief Operating Officer of Arimac Lanka Pvt Ltd, presented Sri Lanka Museums. It is a native Android/iOS-based application that is available in three languages — Sinhalese, English, and Tamil. The application has the characteristics of indoor positioning system, social connect and sharing and geo-location- based augmented reality to locate the galleries based on the location of the visitor. The target audience of the application are local/foreign visitors, visually/auditory impaired individuals, students, researchers or other people. They even provide offline mode on location to address connectivity issues to provide uninterrupted user experience. Visitors can type the code of the artefact to get required information or they can point the camera of towards the artefact to detect information. Augmented reality is used to identify the artefacts around the visitors.
Mahendra Sharma, Co-Founder of Matrubharati, presented the self-publishing e-book platform for regional language authors. The platform provides a culturally rich Indian e-book library on smartphone for avid readers. It works in both iOS and Android operating system. Matrubharati has 2,000-plus authors registered with it, and over 5,000 eBooks that in six languages that have been downloaded one billion times. User review and book review options are available in the app. The users can send their review. Based on this reviews, author's payment structure is defined. The authors get paid in two ways. First one is when a content is published they have to have a minimum downloads. The more download they get, the more money they are paid. Sometimes they buy content and pay upfront depending on the authors.
Vaibhav Chauhan, Director-Resource Development & Operations for Museums in Delhi, presented Sahapedia, a free Android application. It is the first mobile app for museums in India. 'Museums in Delhi' is an app to search for and discover museums in Delhi and NCR area. It holds information on 44 museums under the categories of archaeology, arts and crafts, history, personalia, science, and transport. Until recently, there had been no online resource of museums, their features, their specialties and their themes. The app gives details on opening and closing timings, entrances fees, special attractions, parking, disability access and location. There is also a 'Museum Map', which plots all museums — popular and lesser known — across Delhi and shows the routes using GPS-enabled smartphones. The uniqueness of the app as a smartphone can act as a direct channel between the museum and its visitors. The young in India today access and educate themselves in cultural resources largely through new media and it is located clearly in that space. To encourage the use of the app and to facilitate bigger footfall at the museums, the makers behind the app want to start some activities like Selfie at Museums or Find a Traveller. In the second phase, the plan is to expand the app to six more Indian cities.
Bharat Mohan, Founder and Chief of Sensy Remote presented the innovation and said that it enables users to change the channels on the television by voice commands. It provides fast and comprehensive results. It saves time with unbiased search across channels. Find movies, TV shows, actors, and directors. Search results are ranked by time and content, so people can see which movies or shows are currently playing or set reminders for future shows.
Prapti Mishra, Business Development Manager at Global Delight Technologies, presented Vizmato, a unique application which allows us to shoot and edit short videos on mobile phones. Only available on iOS at the moment, the app has been downloaded more than one million times in the last three years. While the app is free to use, it has several features like music, stickers and filters that can be bought, thus creating a business model for the app. The app has both live editing, and shoot-and-edit-later options.
Rupsa Malik, Director of CREA, presented Kahi Ankahi Baatein, an info line for young people to gain information on sexual and reproductive health, violence, consent and relationships. It gives us a safe sharing platform for questions, thoughts and suggestions. It is a free of cost, round the clock service available in Hindi. The uniqueness of this project is that it reaches out to target groups in remote locations using local languages. It has also increased its outreach to marginalised groups like – transgender population, unmarried young women through its open source content. Between August 2015 and April 2016, Kahi Ankahi Baatein received an average of 300 calls per day, and each call lasted about 12 minutes on an average. The initiative has linkages with channels like Gramvaani and Mobilevaani, besides its linkages to community radio stations.
Towards the end of the session, the panellists appreciated the efforts being made by the innovators in the field, especially for audio archiving and dissemination of information through the audio or visual mediums.
The mBilliont Awards 2016 was organised by DEF with Principal Partner Google; Associate Partner Qualcomm; Strategic Partner Mint; Institutional Partner World Summit Award; Event Partner Inomy; Outreach Partner MP Post; and Country Partners dnet, Bytes for All, CAN and ICTA.