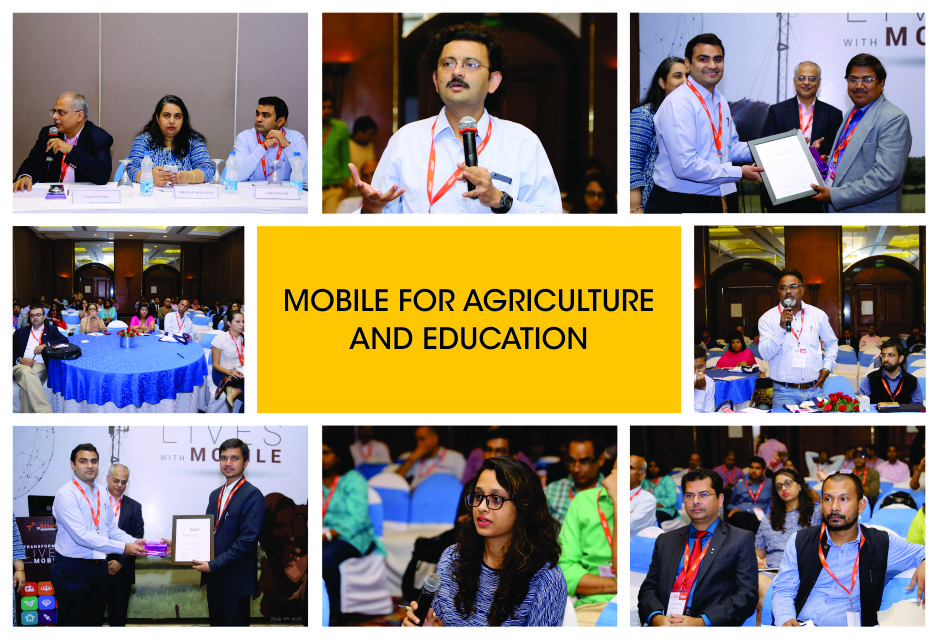 SESSION NAME: MOBILE FOR AGRICULTURE & EDUCATION
Moderator: Lokesh Mehra, Director – Education Services, Symantec Software Solutions Pvt. Ltd.
Jury Expert: Meeta Sen gupta , Founder, Centre for Education Strategy
Panelist: Vikas Bagri , Social Media & Civic Innovation Adviser, Government of Chhattisgarh
Tackling the barriers of knowledge in schools and agriculture
Agriculture and education are two major developmental parameters for any country. And in the last couple of years, mobile technology has been deemed as a catalyst for bridging developmental gaps by empowering people with information, keeping them connected at multiple levels and fast-tracking transfer of knowledge.
A parallel session on 'Mobile for Agriculture and Education' was held on the sidelines of the 7th mBillionth Awards 2016 to give mobile innovators an opportunity to showcase their respective solutions in the domains of agriculture and education.
Moderated by Lokesh Mehra, Director – Education Services at Symantec Software Solutions Pvt Ltd, the session included Jury Expert Meeta Sengupta, Founder of Centre for Education Strategy and Panelist Vikas Bagri, Social Media and Civic Innovation Advisor for the Government of Chhattisgarh.
Commencing the session, Mehra stated that over 1.6 million households in the country are engaged in agriculture or agriculture-related activities. However, compared to this number, the percentage of farmers using mobile phones is very low.
Chief Architect Ronak Sutaria represented #Breathe, an app that notifies users about the quality of air at a certain location. The app works on the concept of real-time air quality monitoring network through low-cost devices. It also facilitates citizen engagement by opening a dialog platform between the citizens and government authorities. This way, monitoring the air quality levels do not only remain in the hands of the authority but every citizen becomes accountable for contributing to pollution levels, and every citizen can find out how good or bad are the pollution levels in his/her area.
Clean Air Nation, presented by Shivanandan Lakshman, is an app with similar goals as #Breathe. The app makes the 'invisible' 'visible' by notifying users of the quality of air in a certain region. Clean Air Nation has already touched an active user base of 7,800. Adopting a user-friendly interface, the app uses terms like 'healthy' and 'unhealthy' to describe air quality and advises users what activities they should or shouldn't do; for instance, whether it is advisable to step out the house or not.
The Stove Trace app was presented by Project Manager Gobinda Dalai. At present, a very large population of India depends on biogas. Diseases caused by smoke from open fires and stoves claim 4.3 million lives very year. Stove Trace app undertakes remote monitoring of improved cooking stoves through temperature sensors, utilising wireless technology. First piloted in Odisha, today 143 households have are logged in to Stove Trace. The makers of the app are now working with the World Bank and other agencies to increase the application's outreach.
Gaurav Ladani, Founder & COO of Kisaan Suvidha, presented the app that caters to the problems of farmer who are often unaware of the actual market prices of their goods. The idea of the Kisaan Suvidha application is to display market rates of farm goods in the same manner as it is done for the stock market or for gold prices. With the help of an APMC marketing yard, integrated within the Kisaan Suvidha app, farmers can easily access latest market prices of their goods. Moreover, they can also avail SMS services through which they can receive regular updates in the absence of a smartphone. The app envisions reduction in corruption in the supply chain as APMC ensures 100 per cent cess collection, making the entire process transparent and accessible.
Mandi Trades is another app that helps farmers identify potential buyers in their vicinity, and purchase seeds and fertilisers. The application, presented by Co-Founder Edvin Varghese, also allows buyers can find farmers in nearby areas. Hence, Mandi Trades essentially caters to three stakeholders – farmers, government and consumers. It was stated that farmers in India almost skipped the 'PC Revolution' and hence, the idea is to take farmers on smartphones. The app facilitates location-based transactions through GPS.
Shekru, presented by its Founder Ananth Krishna, is an app that provides farmers access to information based on education, skill development and financial resources. Developed in English and Marathi, the app displays content classified into three focus areas – educating farmers regarding upcoming seminars, workshops and events; informing farmers about government schemes and benefits; giving farmers a platform to voice their opinion and listen to others. Interestingly, these focus areas are listed down in a 'Twitterised' manner. The all also allows users to download videos to watch them offline.
Crop Advisor from Sri Lanka was presented by its Founder & Developer Prasad Chathuranga. The Sri Lankan government conducts regular training programmes and workshops for farmers. However, the government needs to be informed three months in advance if a training programme has to be organised. In such a scenario, Crop Advisor provides instant and reliable agricultural advisory services to farmers, lowering dependence on government training programmes. In fact, developers of this application have set up linkages with the department of agriculture to receive regular agriculture-related updates that can be uploaded on the app.
Moving from agriculture to education, Nishit Mathur explained that OnlineTyari App is a multilingual mobile platform that focusses on mass level competitive examinations. Students and aspirants hailing from rural and remote locations often have limited or no access to guidance or resources related to entrance exams. The makers of this app have, thus, tied-up with reputed publishing houses and institutions for academic content which is then published through the app's interface. The app also has a feature to allow students to ask questions to resolve their doubts and queries. Remarkably, a quarter of the total number of users of OnlineTyari comprise females.
Co-Founder of Rise, Imbesat Ahmad, said Rise is a special app devised for students and aspirants residing in the Kashmir valley. Lack of access to guidance and mentorship has often proved to be a hindrance for youth with big dreams. They often remain ignorant about the various courses offered in the country. The Rise app not only provides information on courses and examinations, but also offers study material for preparation. Moreover, students can receive career counselling and mentorship through this app. With a download feature, the study material can be easily saved on the mobile phone and accessed later even without Internet connectivity.
Programmes Manager with the British Council in Nepal, Vaishali Pradhan introduced the audience to the Teach App. The application has been created in collaboration with the British Council and is a go-to resource for trainee teachers to access teaching material to support their professional development. This app has been created as an effective teaching tool for English teachers in government schools of Nepal.
Sling, presented by its Co-Founder Amit Bhadbhade, is an app that utilises live one-on-one conversation techniques to ensure faster learning of spoken English. The app is designed on the concept that an individual grasps a language faster through frequent conversations in the language rather than conventional learning. With an interphase that resembles a typical chat-box, the app provides an online platform to students to engage in conversations with their tutors, who assist and assess in the users' learning progress.
CEO Imal Perera introduced the audience to Examiner, an application that helps students practice and prepare for Sri Lanka's most challenging examinations. Perera, while presenting the app, said that due to limited resources, aspirants are often not able to bag seats in government universities. But with the availability of a free-of-cost app, students can access question papers of the last 10 years and model test papers to help them prepare. The application also has a feature called 'Challenge a friend' in which students can challenge their friends to answer a certain question, making learning more interesting and engaging.
Durbin App, presented by Mohammad Adnan, helps in addressing the wide student-teacher ratio in Bangladesh. Additionally, due to the high cost of education, students are unable to afford private tutors. In such a scenario, the Durbin app offers distance learning facility to students, who can self-study at their own pace and monitor their progress. The app also integrates features such as 'challenge other classmates', real-time competitions with other learners, and instant results. The application helps students create discussion networks for group studies and discussions through a digital platform.
After an engaging discussion about the apps, Bagri stated that the youth is changing things everywhere. In fact, they are the very first users of mobile technology even in villages. Hence, makers of agriculture-based apps must keep in mind that their target consumers may not necessarily be a farmer, but a teenager who uses his phone to provide information to the farmers in his region. He added that word of mouth is a popular medium of information dissemination in a rural-scape. Hence, one app user may further benefit 15 farmers with knowledge and information received. Availability of Internet connectivity, however, is indeed a major barrier for transferring information online. To this, Vikas advised app developers to harness Bluetooth technology and appealed to the app makers, especially those working towards a common mission, to pool in their talents and work together towards the cause.